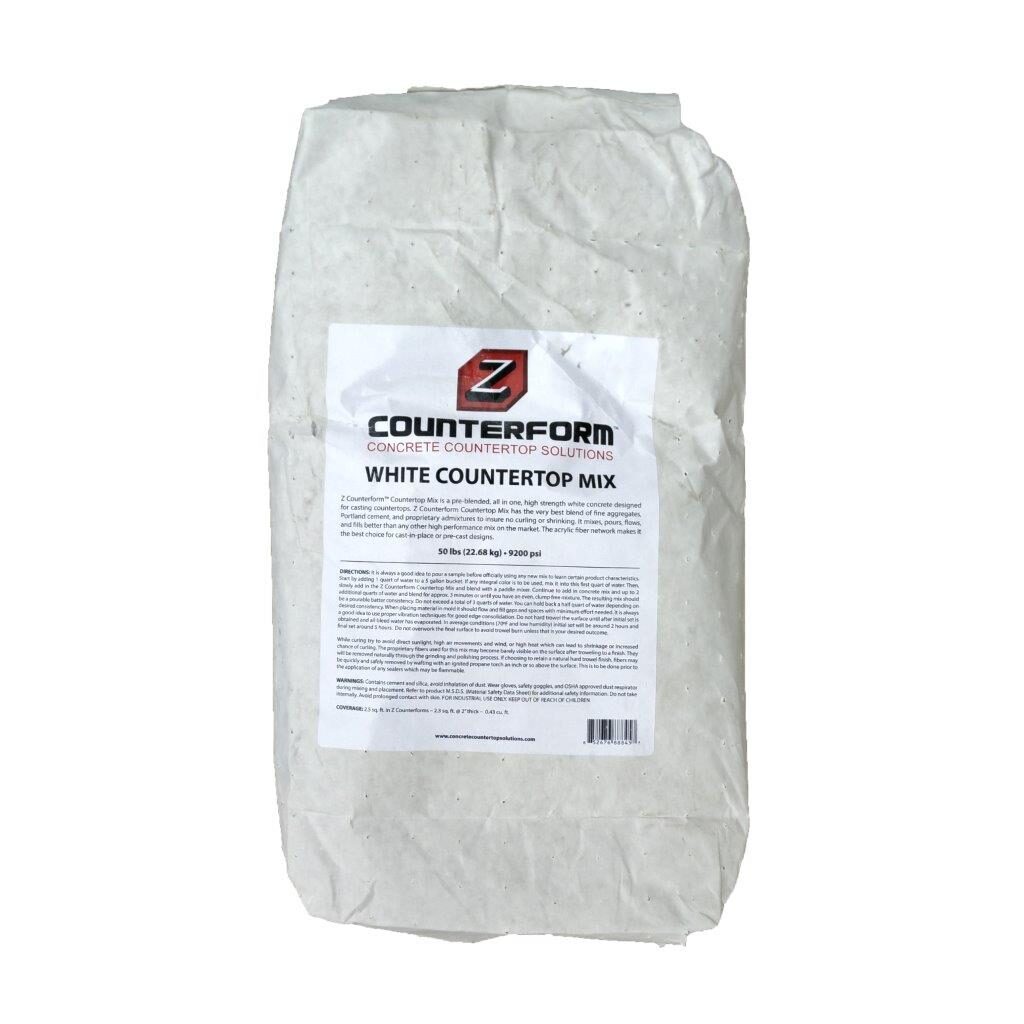 Counterform
Counterform is known for its ease of use for homeowners with their SNAP OFF forms.. This is a cast-in-place or precast concrete countertop system. Simply place cement backer board on top of the cabinets and attach Z Counterform to the back wall and edges. Mix, pour, cure, and SNAP Off Z Counterform off for a smooth beautiful countertop and edge. We have the ALL the Z Counterform supplies you need for your job.
For a pure white countertop, counterform has an all in one white countertop mix you add water too.
The Z Liqui-Crete is a multi-component admixture for converting a standard "Box Store" 60 lb bag sand and cement mix into a consistent flow-able, high strength concrete countertop mix. The purpose of the admixture is to significantly increase the strength and reduced set times over standard mixes. No rebar is needed with this mix. Counterform leaves a smooth finish with NO Grinding necessary.
Surecrete countertop systems is a pourable precast concrete that takes the guesswork and trial and error out of your decorative pieces. A PRE-Blended, fiber enhanced (GRFC) concrete curing out at 11,000 PSI. Poured at only 3/4" without reinforcement reduces the backbreaking weight. You can demold in as little as 6 hours! It can be colored internally and topically (see Surecrete Master & Eco-Stain Color Charts). You can still do all the faux tricks that can be done with any other mix. You will get the color you desire from their color charts. Surecrete is a great system for the homeowner and contractors.
XS-Precast is a pourable commercial grade mix. Mix 1 bag of XS-Precast (gray or white), 1 gal liquid modifier, add color of your choice and pour.
WANT METALLIC EPOXIES?
For resurfacing existing countertops with METALLIC EPOXIES, we have all the products and supplies you need.



i.e. High temperature epoxies, metallic colors, and primers.
Please contact us for more information.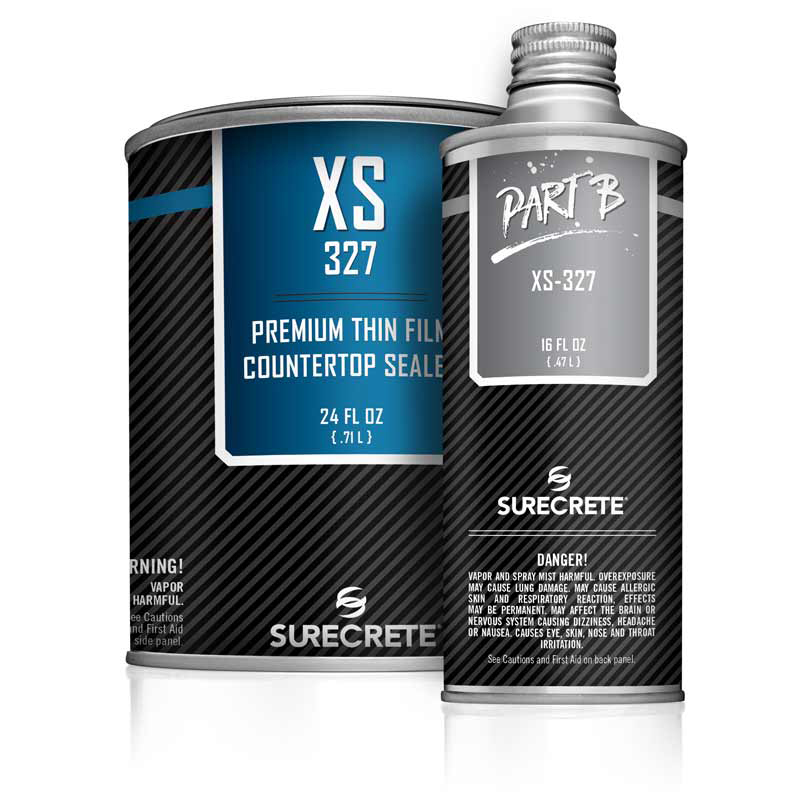 XS 327 Countertop sealer by SureCrete
XS-327 is considered the benchmark for concrete countertop sealers. It is quick and easy to apply, and you should never have to reseal your countertop. It is a low VOC (25 g/L) penetrating sealer with excellent resistance to acidic food and high heat (300°F, 149°C). XS-327 has little to no odor, making it ideal for residential applications. We recommend this sealer for all concrete countertop systems!
Available in Matte or Semi-gloss, leaving a natural finish. It will not change the color of your countertop.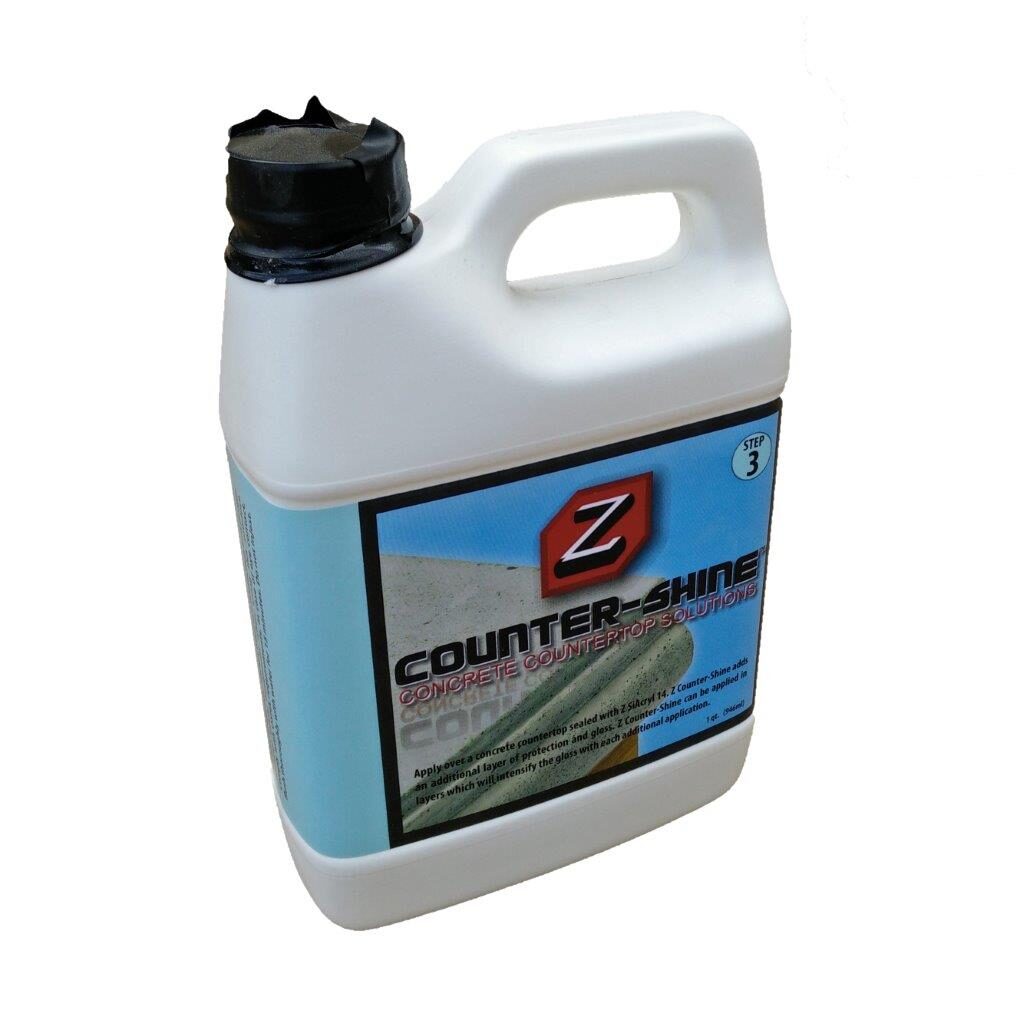 Counter-shine by Counterform
Counter Shine (Polish) provides additional shine and protection on top of your already sealed concrete countertop with SiAcryl 14.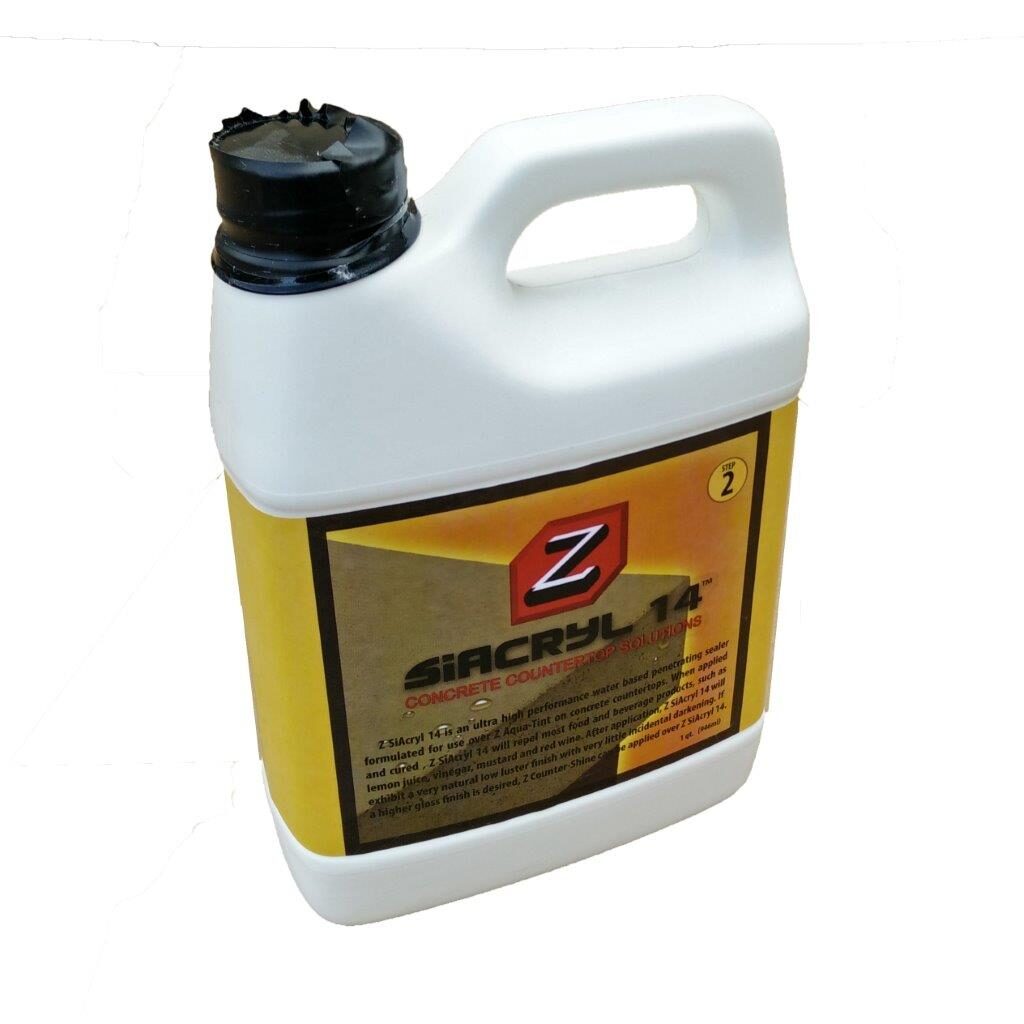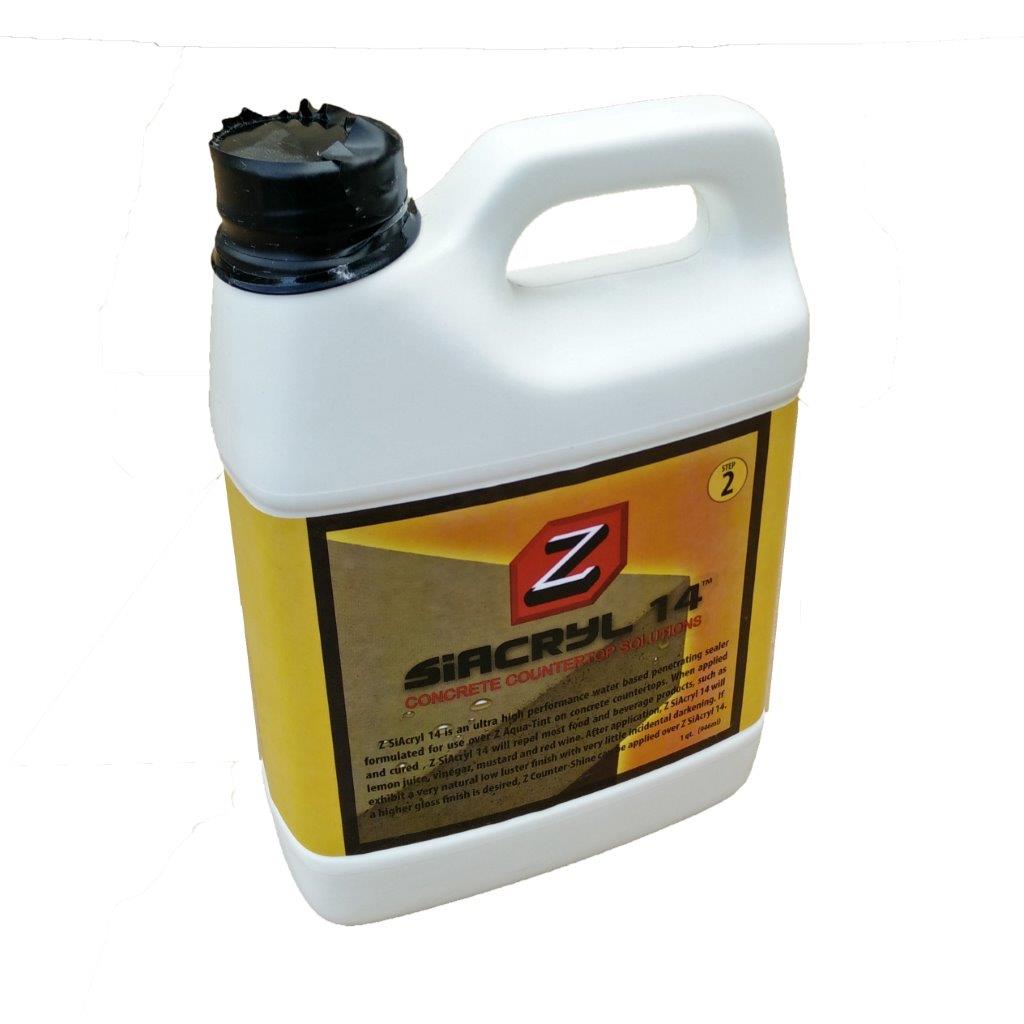 SiAcryl 14 by Counterform
SiAcyl 14 is a water based penetrating sealer that is re-coatable with minimal prep work. It is easy to apply and quickly cures for a natural satin finish. It provides protection from scratches, water, and stains while being food safe and environmentally friendly.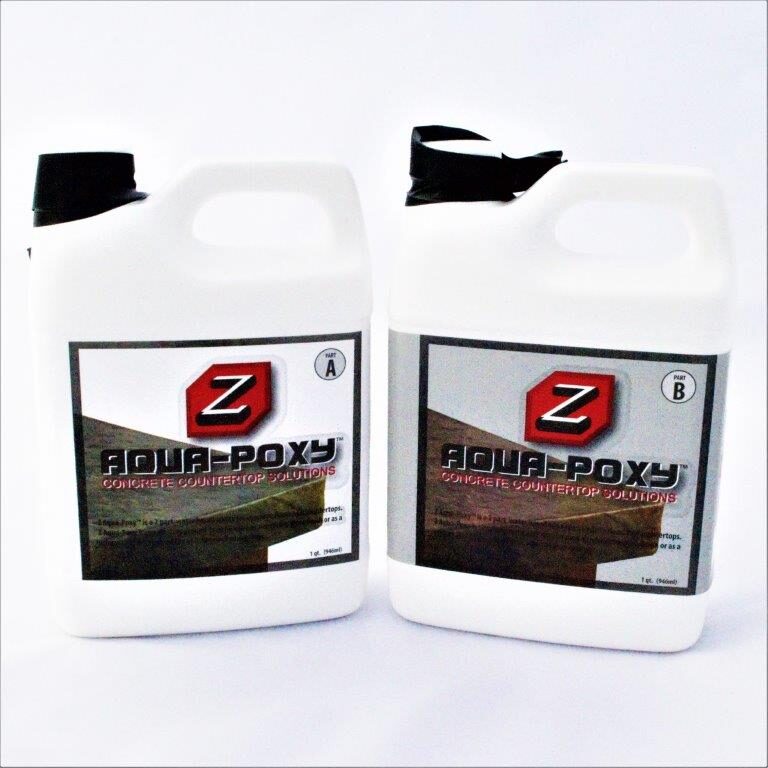 Z Aqua-Poxy is a 2 component water based epoxy providing a tradition epoxy look with the ease of a water based sealer. It applies thin but can be built up with 2-3 thin coats. It finishes with a medium gloss with little to no darkening. This is meant for indoor use only.
NOTE: Light sanding must be done between each coat.
All products are available for
Shipping and In-store pickup.
Please Call (801) 222-0808
or Come In (Orem, Utah)
with any questions or to place and order.